Box Gutters
Expert Box Gutter Installers
Highly Experienced & Qualified
Box Gutters
Box gutters are gutters situated on roofs, typically in a rectangular shape and placed between parallel surfaces. They drain away excess water through downpipes and to the external parts of a building. Box gutters are designed to hold large amounts of water that can be disposed of with the built-in overflow system. 
These types of gutters are used most commonly for commercial buildings, rather than residential, but are also a popular feature on large historical homes. Due to their accessibility in the 19th to 20th century, box gutters are ideal for restoring the appearance of an old property. 
They are built from wood and are custom made for each customer, therefore these gutters can be more expensive. The craftsmanship that goes into each installation is unmatched within the gutter industry, providing an individual service for every client.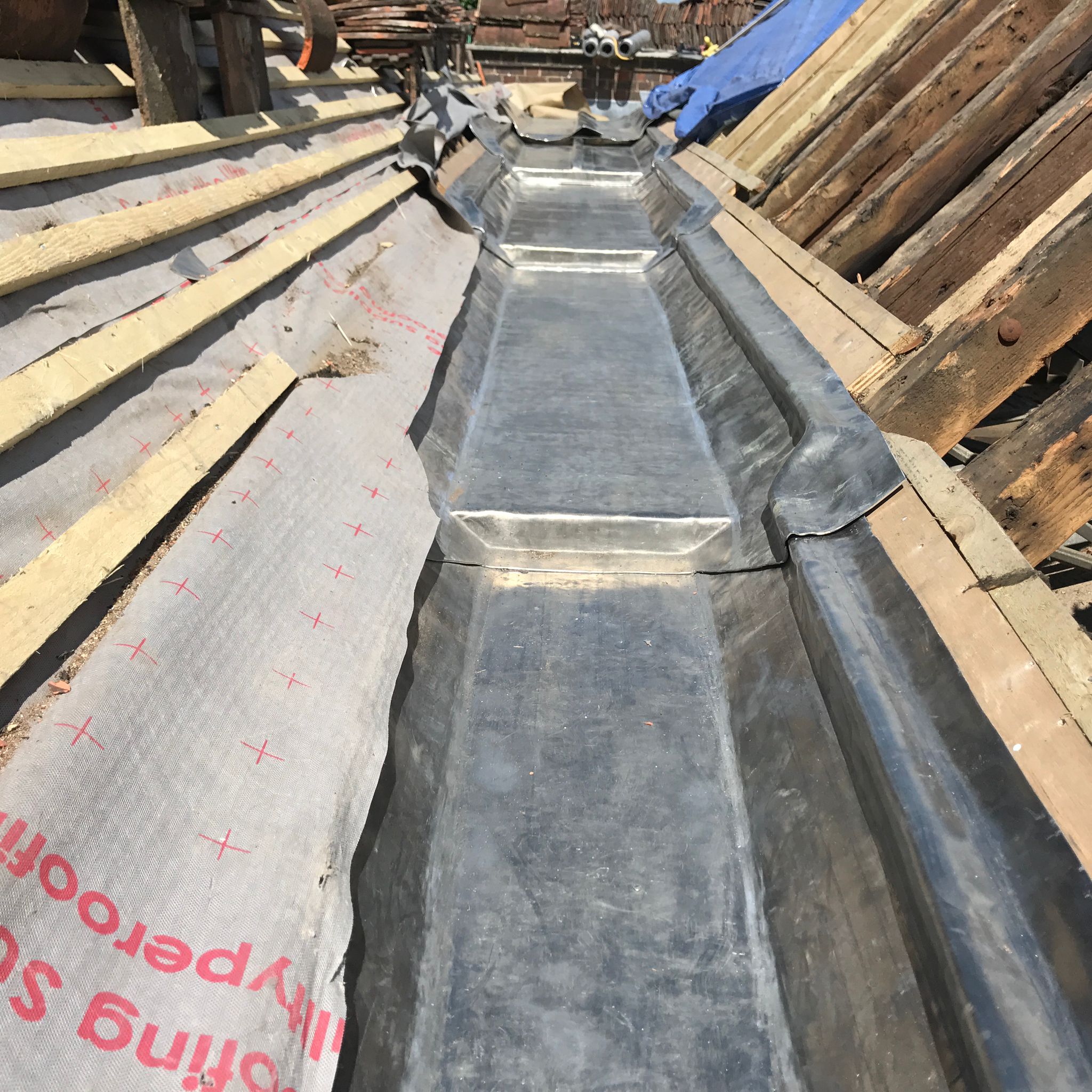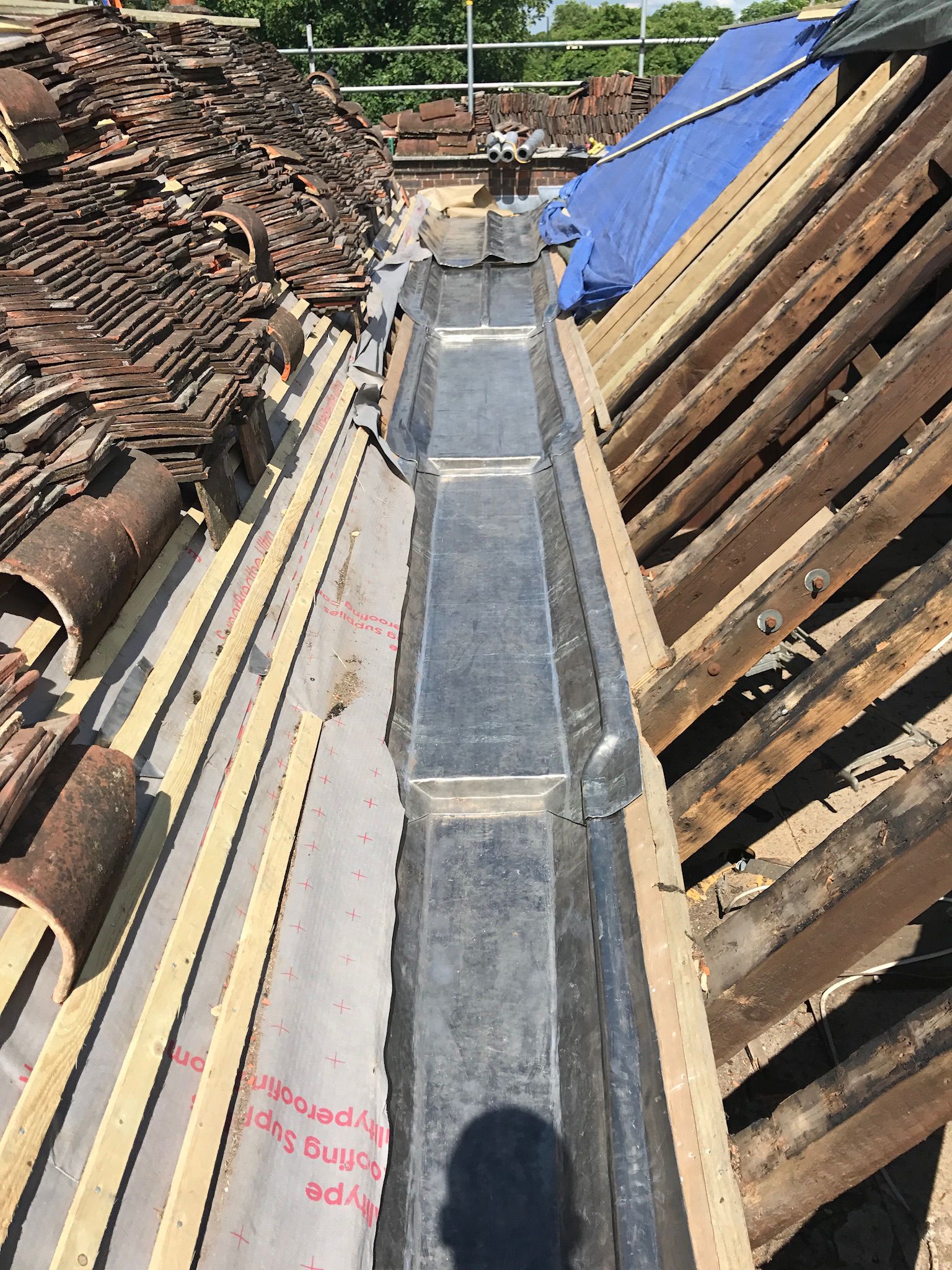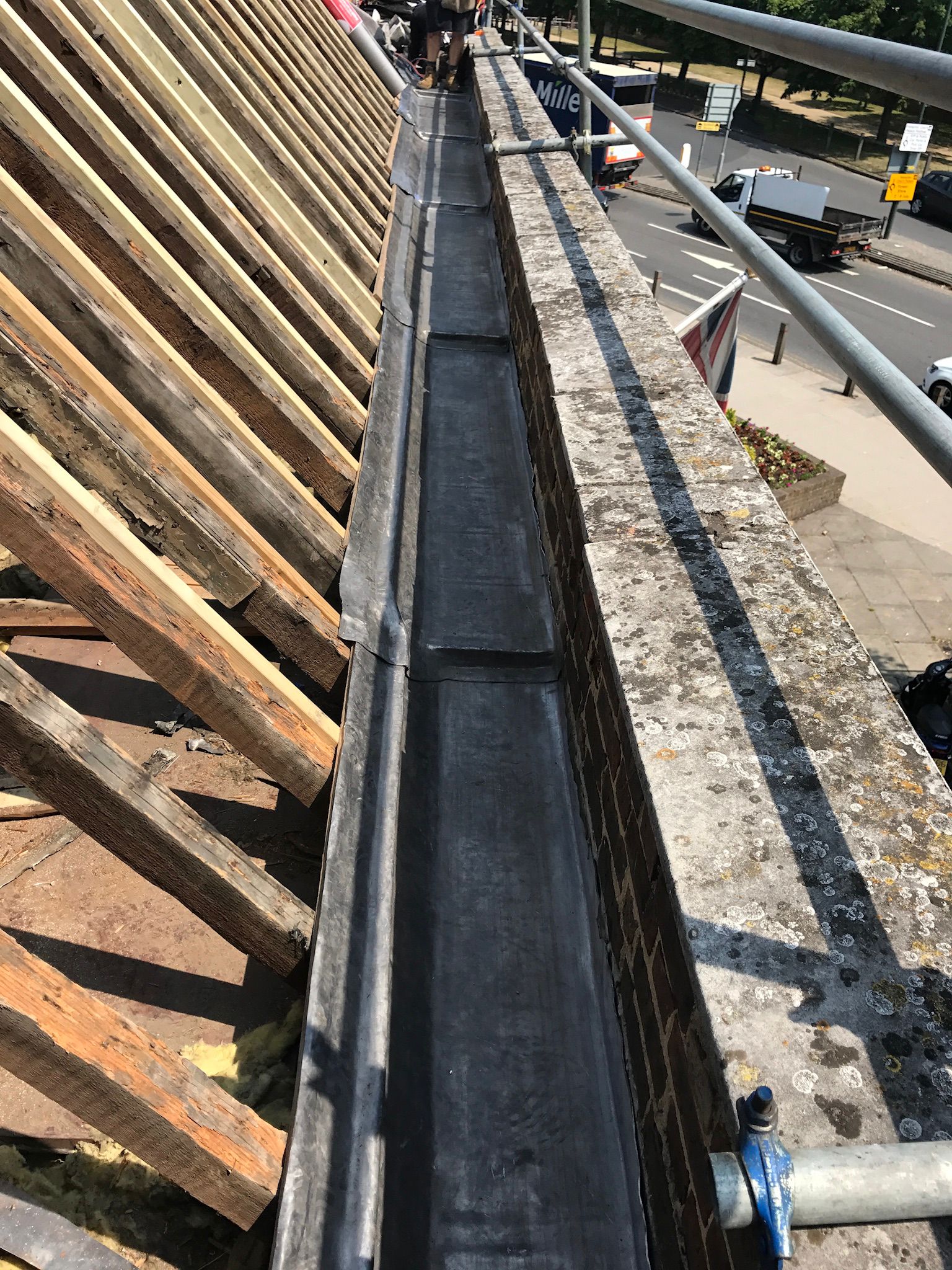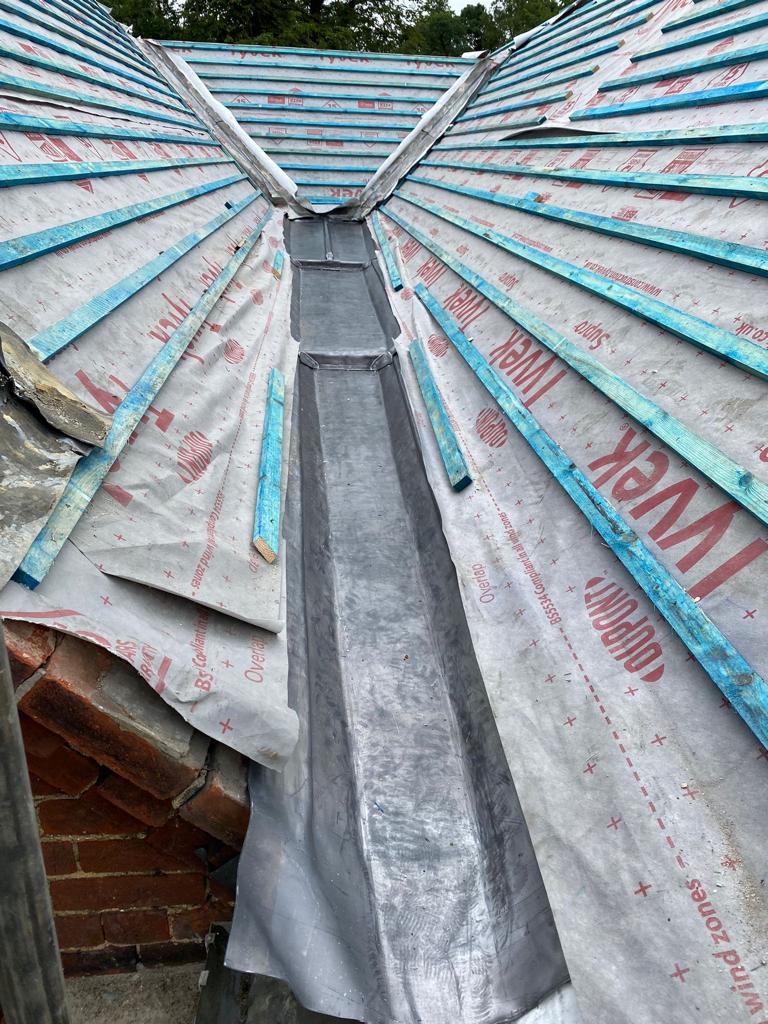 Benefits of box gutters 
Box gutters are known for their durability, the sheet metal inside lasting many years if properly maintained. If issues do arise during this time, box gutters are also easily repaired. Not only ideal for the aesthetics of historical homes, but they are also often hidden away and therefore aren't an eyesore on the exteriors of buildings. They are designed to blend in with your property, rather than sticking out on the side of your house. 
As box gutters are exposed to all types of weather, they will need to be repainted at some point. Fortunately, due to their durable features, box gutters made with tin-coated steel only need an extra layer of paint every 8 to 10 years. Their low maintenance is a huge benefit for all clients, whether the gutters are for residential or commercial use. Spend less time maintaining your property and invest in our box gutters.
What we can do for you 
Silk Leadwork provides each and every client with an industry-leading box gutter installation service. We will work with you and install the perfect box gutter, designed exclusively for your property requirements. We guarantee each gutter is fitted correctly and to our high safety standards, improving its lifespan and performance. We can inform you of the right architectural choices for your property, keeping you informed throughout the entire process. Our expert team of contractors are dedicated to providing a professional service and creating a positive experience for clients. 
If you'd like to invest in a box gutter for your property, let us know and discuss what you'd like done by getting in contact today. We can supply you with a quote as well as answers to any questions you might have. Feel confident with your box gutter providers by choosing Silk Leadwork's exceptional service.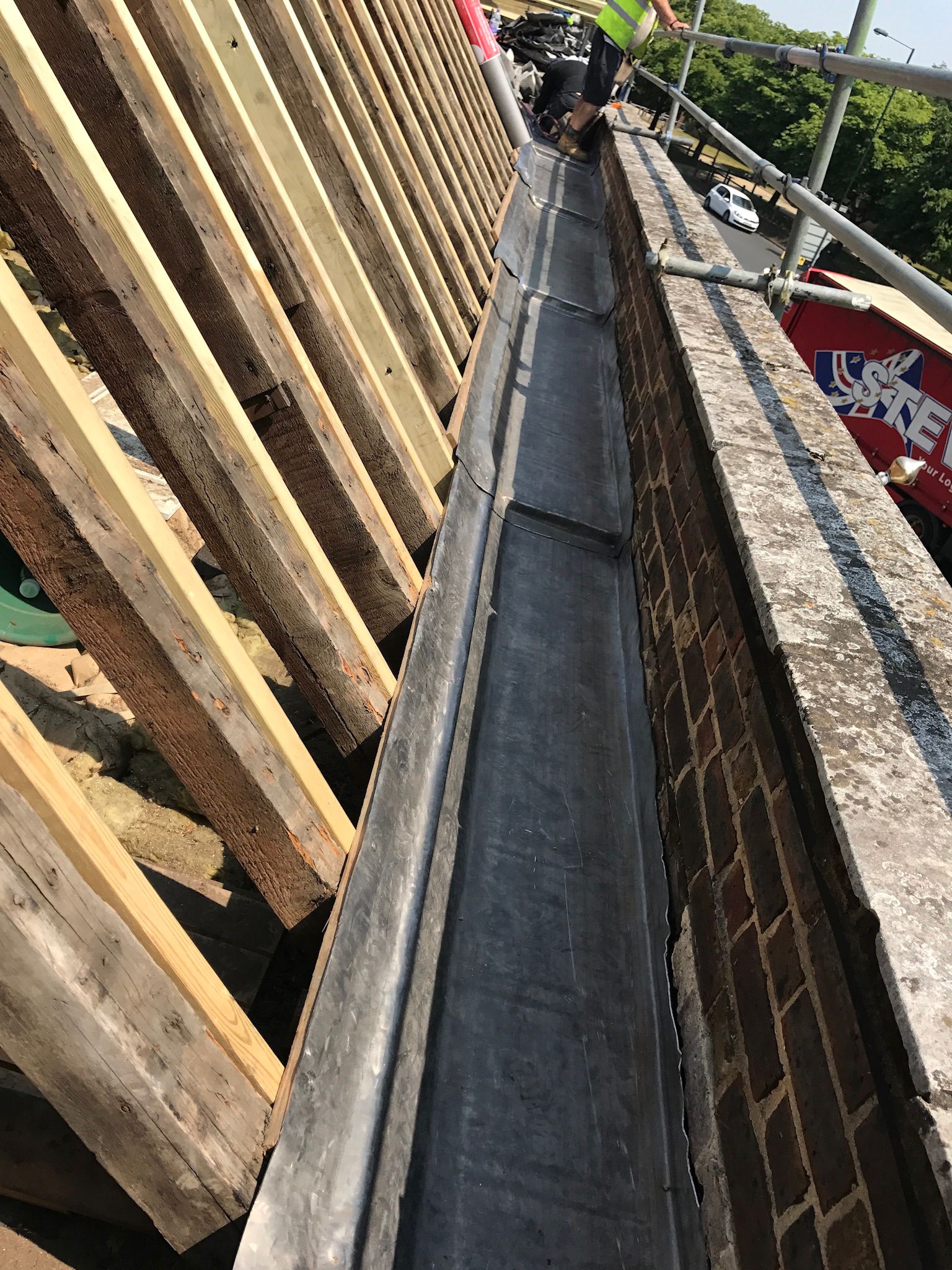 How to fix a leaking box gutter
A leaking box gutter could be due to several reasons. If your gutter is clogged or full of leaves/debris, this can lead to a leak and simply unclogging the gutter will resolve the issue. However, with a clean leaking gutter, the answer might not be so obvious. Pinholes can appear in the sheet metal as it corrodes faster in areas that hold water. If you find significant holes in the guttering, it's best to seek help from gutter repair professionals. Small punctures can be fixed through roof-and-gutter sealant, available at your local hardware shop.
How are box gutters made?
Box gutters are made from wood with galvanised steel or copper sheet metal linings, expertly crafted by a carpenter before being built into the roof. They can also be made from other non-corrosive metals. During manufacture, box gutters will be designed to ensure optimum water flow from the gutter into the outlet hole. This prevents the overflow of water which could lead to further issues within the property.
Why should I choose a box gutter?
Box gutters are not only ideal for historical homes, maintaining the 19th century aesthetic, they are also very durable and don't corrode easily. These gutters are easily concealable, built into the structure of the building rather than the outside, resulting in a nicer external view. 
These gutters are also custom made for each individual building, so instead of receiving an industry-standard gutter you will receive one designed for your property.
How much do box gutters cost?
Because of the work that goes into the manufacture of box gutters, they can be more expensive than your traditional vinyl gutter. Prices will depend on the size of your property, and the area you need the gutter to cover. The bigger the building, the more expensive the gutters will be. Free box gutter estimations are available online, for clients to calculate the approximate cost of installing box gutters. Alternatively, contact Silk Leadwork for a free quote.
Why are clean gutters important?
Keeping your gutters clean can prevent the build-up of leaves and debris in the water drainage system. These cause blockages which will eventually lead to an overflowing gutter and damage to your property. Cleaning them at least twice a year will stop costly repairs caused by clogged gutters and provide you with peace of mind. It's easy to forget about gutter maintenance and allow them to build up for many years, but get yours cleaned before any damage occurs.
When should I replace my box gutters?
The average lifespan of gutters made from galvanized steel, like box gutters, is 20 years. Different metals may hold for longer, with copper gutters lasting up to 50 years. This statistic relies on weather conditions and cleaning frequency, with harsher weather wearing gutters down at a faster rate. Maintenance your gutters frequently to increase their lifespan and reduce the need for replacement. 
Please keep in mind that damage to your gutters can occur at any point and shouldn't be ignored.
What is the best way to clean gutters?
Cleaning your gutters can be done by hand, with a ladder, bucket, gloves and garden trowel. This is the simplest way to do it and requires little effort from the property owner. Once your gloves are on, scrape and scoop any debris into your bucket until the gutter is cleaned. Flush the gutters out with water to make sure they are functioning properly. 
If your gutters, box or otherwise, are located at an unsafe height or location, hiring a professional to clean the gutters is a wise choice.
What are gutters made of?
Gutters can be made from a variety of materials, ranging from plastic to galvanized steel. Gutters can also be constructed from concrete, copper, PYC, wood and vinyl. Generally, gutters manufactured today are made from aluminium, vinyl and steel, with some gutters a combination of more than one material. 
Box gutters are constructed with wood and thin sheets of steel and are occasionally made from copper. 
How to stop gutters from becoming blocked?
Maintenance is key to prevent box gutters from becoming blocked, and the solution is simple. Cleaning out your gutters at least twice a year will reduce the levels of accumulated debris and stop your box gutters from becoming blocked. 
Be mindful of the surrounding area. If you have trees that shadow over the guttering, leaves and branches could find their way into the gutters preventing a successful flow of water. Inspect your gutters regularly to prevent blockage and damage from being done to your property.
How are box gutters installed?
Silk Leadworks expert installation contractors ensure your box gutters are installed correctly and safely. Gutters are implemented along with the roofing of your property, collecting rainwater and draining it away. Gutter installation can be done by hand, but the cost of such a task is higher than investing in a professional carpenter. 
Each gutter installation differs depending on the type of gutter and the size of the property. Commercial buildings require professional help with gutters, given the height and width. Contact Silk Leadwork for gutter installation services, both commercial and residential.
concave and convex roofing